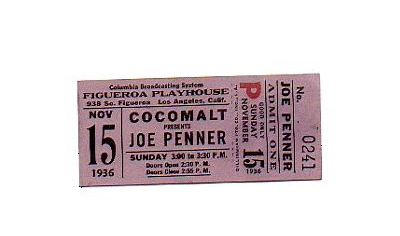 Wanna Buy a Duck?

Joe Penner on Video


Since none of Penner's films are currently available commercially (although VHS/16mm to DVD transfers for
Collegiate
,
College Rhythm
and
The Boys From Syracuse
show up on eBay regularly), here are some scenes for you to enjoy.
To watch the scenes, click on the title card from the specific film below, and a new page with all viewable scenes from that film will open. To return here, just hit your browser's "back" button.




An all-star musical romp from RKO Radio starring Penner, Harriett Hilliard, Gene Raymond, Parkyakarkus, Helen Broderick, Victor Moore, Franklin Pangborn, Billy Gilbert and Ann Miller.
Penner (as Joe Penner!) sings the title number.
Scenes: 4

Penner plays bank teller Wilbur Meely, a normally unlucky soul who wins an Airstream trailer. However, escaping bank robbers "borrow" the trailer with him inside, leading to plenty of hikinks, on and off the road. The film also features a spunky Lucille Ball as his wife, Carol.
Scenes: 2
I'm from the City
is a treat for Dick Lane fans. He plays Ollie Fitch, the fast talking shyster manager of circus trick rider Pete Pepper (Penner). Pepper's secret: he can only ride when he's hypnotized by Fitch. Things get nutty when they sign on to help a ranch owner win a race against a rival.
Scenes: 4

Penner is Ernie Ambrose, a cab driver and pigeon trainer tricked into training a race horse for his fellow cabbies. Turns out the horse only runs when inspired by (or full of) beer. Dick Lane and Tom Kennedy are featured as the guys who try to "make the bookies weep," and Betty Grable adds a love interest.
Scenes: 4
In Penner's final RKO effort, he portrays Joe Zany, a young man who is allergic to women. Tom Kennedy is back, but the "Dick Lane" role is handled this time around by Russ Brown (
Damn Yankees
). Linda Hayes is the love interest, and Arthur Q. Bryan (the voice of Elmer Fudd) plays his father.
In his motion picture swan song, Penner joins Alan Jones (father of singer Jack Jones) in "dueling" dual roles. Also along for the ride in this adaptation of the Rogers & Hart Broadway hit are Martha Raye, Eric Blore, Alan Mowbray, Charles Butterworth, Irene Hervey and Rosemary Lane.
Scenes: 5